Ice climbing at Stora Sjöfallet
This information is based on a guide (in Swedish) in the Swedish Climbing Association's magazine Bergsport by Per Hallander, Jan Hallander and Rafael Jensen, with additional material from Gällivare klätterklubb (Gällivare Climbing Club)'s web page: http://www.gkk.gellivare.org/frare.htm (in Swedish, but with links to photographs of the routes)
Translation and some additional notes by Rick McGregor
One of Sweden's largest ice climbing areas is to be found in Stora Sjöfallet National Park near Suorva Dam, towards the head of the Lule River valley, inland from Gällivare. The routes vary in length from c. 20 m to c. 400 m.
Getting there
From Gällivare, take route 45 south for c. 40 km and turn off to Stora Sjöfallet and Vietas. From the turnoff it is c. 100 km to Stora Sjöfallet campground. From Jokkmokk, take route 45 north, and turn off c. 10 km north of Porjus. It is possible to take public transport (bus, train or air) to Gällivare, and then catch a bus to Vietas (see below).
The routes which have been climbed so far are found beside the road between Vietas and Vakkotavare. The first routes "Greven" and "Grevinnan" [The Count and The Countess] were climbed in 1988 by Per-Olof Lidström and Thomas Krainer. The twin falls were named by the hydro workers who built the dam.

---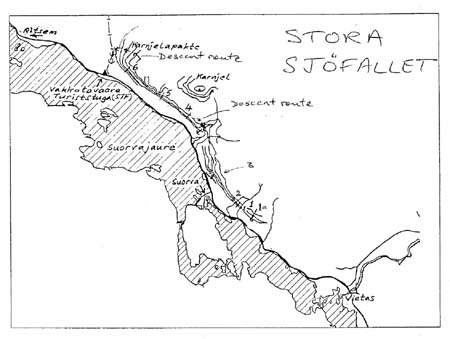 ---
Route descriptions
Here is a description of the routes starting from the East (with kilometre readings from the turnoff to Stora Sjöfallet campground at Vietas).
1 Greven [The Count], 2 Grevinnan [The Countess] (8.1 km) (photo)
The two obvious twin falls immediately east of Suorva Dam.
Grevinnan is the right-hand and hardest of the two falls. It is about 250 m (c. 5 pitches). The first two pitches give good 70 degree ice. Then there is a lower-angled snow- and ice-field up to a steep ice wall. The ice wall consists of c. 60 m 80 degree ice, which is sometimes (often?) in very poor condition (firn snow?). Grade WI 4, approach c. 35 mins.
P-E. Lidström, T. Krainer, 1988.
Greven is a pleasant c. 300 m long route (c. 7 pitches) with the steepest section 75 degrees. The route is even suitable for the less experienced as the steepest sections can be avoided. WI 3, approach c. 30 mins.
P-E. Lidström, T. Krainer, 1988.
1a Adeln har kastat vatten [The Nobility have taken a leak] (7.9 km) (photo)
About 100 m to the right of Grevinnan is a very wide and yellow ice fall. The route is two pitches long and about 80 degrees. It is possible to continue up through thickets above the fall to a small 15 m high wall which is about 60 degrees. Grade WI 4, approach c. 40 mins.
P-E. Lidström, Rafael Jensen, 7 March 1989.
---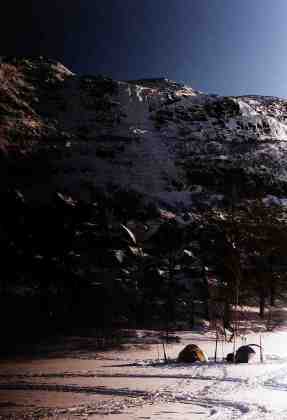 Photo: Grevinnan and Adeln har kastat vatten
---

3. Suorva Dam (9.9 km) (photo)

Immediately north of the dam are three short waterfalls. The approach is straightforward as they are only 100 m from the road and a large parking area.

3a Pelaren [The Pillar]

Furthest left is a prominent pillar. Climb a short ice wall to the foot of the pillar, then the pillar itself, c. 30 m of 90 degree ice. The pillar is often granular ice which makes the route very serious. c. 50m. Grade WI 5+.

P-E. Lidström, R. Jensen, 6 March 1989.

3b Lätta fötter, tungt hjärta [Light feet, heavy heart]

About 10 m right of 3a is another pillar, which just like 3a starts with the short ice wall. It then follows the c. 20 m high pillar with 80-85 degree ice up to a small ledge. From the ledge make a short traverse to the right and then up a c. 5 m high ice wall to another ledge. From the ledge make a delicate traverse right on a narrow ramp to the top of the climb. Some years the ramp can be a snow traverse. c. 60 m. Grade WI 3+.

P-E. Lidström, R. Jensen, 10 March 1989.

3c Ganska brett isfall [Quite wide waterfall]

Furthest right of the three falls is a fairly easy ice wall, which as the name suggests is quite wide. c. 20 m. Grade WI 3.

P-E. Lidström, T. Krainer, 1988.


4. Nästan alpint [Almost alpine] (13.1 km) (photo)

On the mighty cliff of Karnjel north of the lake Suorvajaure is a 9-pitch ice route. The route consists of short steep sections of up to 70 degrees and long lower-angled sections. It is an excellent long day trip. The descent route takes the third couloir to the east. Beware of avalanche conditions. c. 400 m. Grade WI 3. Approach 15-30 mins.

P-E. Lidström, R. Jensen, 9 March 1989.

5. Mjuka lavinkyssar [Gentle avalanche kisses] (14.6 km) (photo)

In the gully between Karnjel and Karnjelpakte is a c. 250 m long ice route. It begins with a c. 20 m high 80-85 degree ice wall, which is followed by 2 easy pitches up to an excellent 75 degree ice wall. Climb the ice wall (1-2 pitches) and then another couple of easy pitches to the top. Grade WI 3+. Approach c. 60 mins.

N.B.: Beware of avalanches on the upper part of the route (which got its name after the avalanche which swept past the first ascent party).

The best descent route is down the western slopes of Karnjelpakte and then down the valley to Vakkotavare.

P-E. Lidström, R. Jensen, 26 March 1989.

6. Snövit [Snow White] (16.6 km)

Snövit is the long ice fall which weaves its way up the southern cliffs of Karnjelpakte. The fall is clearly visible from STF's hut at Vakkotavare. Snövit is surrounded by a number of shorter ice falls (the dwarves). The route is c. 300 m high and c. 350 m long. The steepest section is c. 85 degrees and is at the start of the first pitch.

Pitches 1 and 2 are 75-80 degrees.

Pitch 3 crosses a small snow field and then continues up into a narrow ice groove.

Pitch 4 follows the groove to a larger snow field.

Pitch 5 crosses the snow field. N.B.: the snow field may avalanche.

Pitch 6 continues up a wide ice wall, offering plenty of route choice.

Pitch 7 continues up two small ice walls to the top.

Grade WI 4. Approach c. 45 mins.

The descent is the same as for "Mjuka lavinkyssar" (down the western slopes of Karnjelpakte and down the valley to Vakkotavare).

Per Hallander, Jan Esensjö, 1992.

Accommodation and transportation

If you have a car (which is recommended) you can stay at Stora Sjöfallets Turistanläggning in Vietas. Rooms should be booked in advance. Telephone: +46-973-40070, E-mail: info@storasjofallet.com.

If you don't have a car it is possible to stay at STF (the Swedish Tourist Association)'s hut at Vakkotavare, which can't be booked [it usually opens a week or two into March]. It is possible to walk to all the routes from there, although the approach to the routes which are furthest east would be very long.

It is possible to get on or off the bus which runs between Gällivare and Ritsem [from the end of February] at the Vakkotavare Hut. Telephone number to the bus terminal in Gällivare: +46-970-10084 [toll free number for bus timetables in Norrbotten: +46-20-470047].

To/back to Rick's ice climbing page.

This page designed by Rick McGregor
Last update: 17 May 2001